Senior Software Engineer, embedded
in Zurich, Switzerland
About Distran
Who we are
Distran invented the world first ultrasonic camera, an extraordinary device able to see the sounds. What for? To see gas leaks (which emit ultrasounds) before they get dangerous to the humans or to the environment. It is not science fiction, it is already used by major industrial companies in more than 20 countries!
We are a growing team of 20 people developing, producing and selling this very sophisticated device, processing in real time about 1 Gbps.
Do you feel concerned about climate change and the protection of the environment? Do you love technology? Join us to make a decisive step in this journey!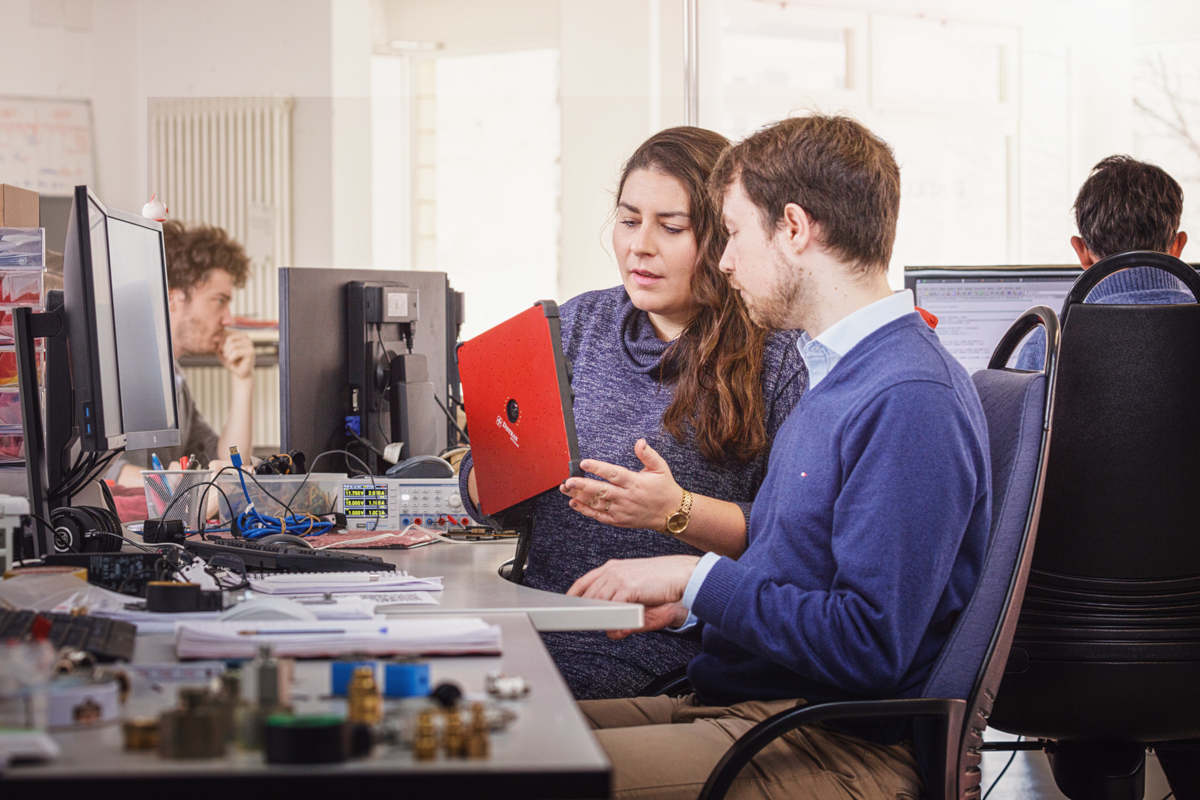 Responsibilities for the Senior Software Engineer, embedded job
Responsibilities
The embedded software running on our Ultrasound cameras is at the core of Distran technology, with a strong focus on high performance and reliability. We also develop a large sets of tools and software solutions to organize production, quality, updates and management of our fleet. As an embedded software architect, you will help Distran building ever faster and more sophisticated devices, though ever simpler and more integrated for our users.
Work within the team developing the Ultrasound camera software:

Write code and implement new features
Ensure continuous integration and reliable development.
Document the software architecture.
Participate in sprint reviews/demos.

Be responsible for sprints organization

Conduct sprint planning and effort estimation sessions
Guide the work break-down process of large tasks
Contribute to sprint scope definition.

Contribute to planning and integration of software work within the company

Report project and feature development status within the development team and to management
Collaborate with product owners and other stakeholders to coordinate the implementation concepts and planning of future features and projects.
For each release, collaborate with Application Engineers to ensure seamless field testing, deployment on the fleet and communication towards Customers and Sales.
Take on an active role in project tracking and release scope definition to enable the forecast of >delivery dates.
Requirements for the Senior Software Engineer, embedded job
Requirements
More than 5 year Software developer experience
Strong C++ development experience, both writing and debugging
Familiarity with ARM platform
Work experience in a company developing embedded products
Team management experience of at least 3 years
Excellent oral and written communication skills in English.
Willingness to learn new technologies
Ability to take decisions and responsibilities, ability to take technical leadership, leading project teams, and setting technical direction.
Plus
Experience or interest in GUI design
Proficiency in Python
Experience with remotely updated devices
What we offer
Bringing a groundbreaking product from a nice technology to a market best seller is a challenging yet rewarding social and professional experience. This job is for you if you like to give meaning to your work and have a strong impact on a product and on a company.
Want to join? Please submit your application here.
Offer added/modified on Dec. 4, 2020